Cold-Press Juices Top 5 Bars in Chicago
Juice Bars in Chicago
Are you also one of those people who find it challenging to resist delicious but extremely fattening dishes? Is working out and dieting too much of a nuisance for your cold-pressed juices? Well, we have come up with a solution for you!
Have you ever noticed aesthetically pleasing juice bottles in your grocery stores or juice bars near your place and wondered what they do? Well, let us increase your knowledge. These cold-pressed juices with a wide variety of colors, filled in clean little bottles, are refreshing and filled to the brim with vitamins and nutrients. Not just that, but cold pressed juices also aid your body in the process of Detoxification.
The nutrients present in the fluid help fight toxins in your body and boost your immune system. It makes you have more energy, clearer skin, less bloating, and a decrease in cravings, preventing you from
overeating!
How is it healthier as compared to hard-pressed juices? As no heat and oxygen are used in this process, the ingredients' nutrients do not get lost in the usual pasteurization process.
Since we have now informed you of the benefits of Cold Pressed juices, it's only fair we tell you where you can find them! If you live in Chicago, these are the best Juice bars for some healthy and delicious cold pressed juices!
Real Good Stuff:
Formerly known as Real Good Juice, located at Multiple Locations in Chicago, this Juice Bar is confident that they aren't just good, but real good!
Whether you need something vegan, gluten-free, or dairy-free, they have it all! And if you just need something healthy and delicious at the same time, they have a plethora of items for you to choose from their menu!
Here, you can find organic and locally sourced juices and smoothies, sweet concoctions like Juicy Pops and NoyoFoyo, and even warm, savory food like bowls, sandwiches, and toast!
Joe and The Juice cold-pressed juices:
Although it is Located at 8 East Huron Street in Chicago, it has over 300 outlets in America, Asia, Europe, and Australia. This place is not only Instagram worthy but also serves you the best juices, shakes, coffees, sandwiches, and the special JOEgurt!
With its modern and funky yet warm interior with dining music, it's a fantastic place to chill with your friends and consume some healthy and delicious drinks!
Another fun fact about this place? Their menu for their customers is formed by their customers themselves! Cool right?
Infiniteus Rocks and Juice: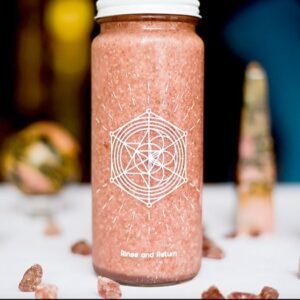 This is an organic juice bar and a metaphysical crystal store located at 1644 W North Ave in Chicago. Their highly trained and knowledgeable staff with plenty of intellect are excellent at answering your questions regarding boosting energy, weight loss, glowing skin, and much more! Not just this, but all their cold-pressed juice bottles come with a label outlining their texture, taste, and benefits!
One of their Detox Cold Pressed juices, known as Love Juice, is a healthy concoction of beetroot, ginger, pineapple, and lemon, which guarantees an enhanced libido, and an increase in fat burn, and a boost to your digestive system!
Jubilee Juice and Grill:
Are you craving delicious burgers, steaks, chicken, and other junk foods? Well, we have exciting news for you! Located at 140 North Halsted Street in Chicago. A quaint cafe with vibrant art on the walls. Jubilee Juice and Grill serve you all these dishes without fattening ingredients and with a twist of healthy ingredients!
Not just that, but they also make amazing fruit smoothies that are fresh and organic! Not just this, but they also provide all these fantastic food options at a very reasonable and affordable price! So what are you waiting for? Don't forget to check them out!
Hi-Vibe Superfood Juicery: Cold-Pressed Juices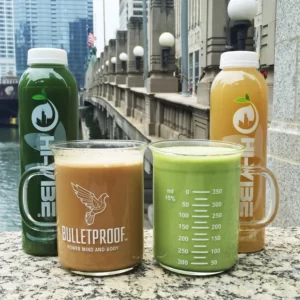 Located at 160 West Kinzie Street, this place is all about matching your vibe! Whether you want to opt for an energy boost. Weekly consumption of goodness, or a complete reset, they have got you covered!
Not only do they sell Cold-pressed juices but also a wide variety of salads, snacks, superfood smoothies, and keto coffees!
They also have a comprehensive cleanser program that provides you with a plethora of superfoods, adaptogens, and nutrients.
Conclusion:
The health benefits of these cold-pressed juices should not be ignored. If you are looking to lose weight quickly. Or opt for a healthier diet without making too many drastic changes, these are best for you!